MEET EARL, CHOO AND BANGKOK
It is with a broken heart that I announce the death of my husband, soulmate, and lifemate. Earl passed away November 23, 2014 after a long battle with bladder cancer. It was Earl who conceived the idea of creating this website to share our love for Canada geese with the world. It was Earl who was with me as we welcomed our feathered friends back from the south. He was with me everywhere I ventured: down the railroad tracks to feed and photograph our nesting friends, at the park near our house where we cared for them until they migrated in the fall. He was my greatest champion, my greatest love. And he loved me like no other. To say that I miss him is an understatement.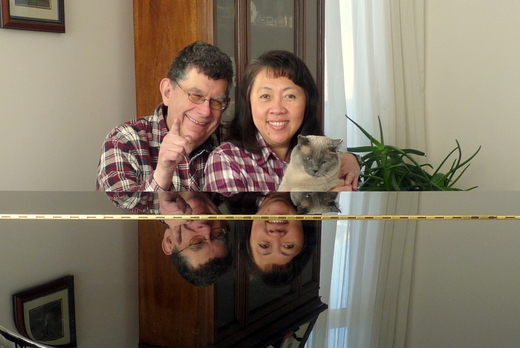 My name is Choo Choo and I live in Winnipeg, Canada, with my beloved cat, Bangkok. I love feeding and socializing with Canada geese and providing a backyard banquet for the wild birds, ducks and feral cats who frequent our backyard all year round. My other interests and loves include caring for and playing with Bangkok, attending symphony concerts, investing, YouTube, movies and watching reality TV.
Earl and I also enjoyed recording videos of our geese and our cat, Bangkok. If you'd like to watch some of those videos, please click on the link below:
Here are some of our favorite videos:
1. Welcome to the Great White North: enjoy Earl's hilarious commentary.
BANGKOK'S VIDEOS:
Due to chronic wrist tendonitis, I don't play piano as much or as often as I would like to but I have recorded a few pieces over the years. If you'd like to watch some of my piano videos, please visit me on my YouTube page:
"Geese possess a veritably human capacity for grief. Agreed, one cannot look into the soul of a goose, and the animal can hardly give us a verbal report of its feelings. But the same is true of a human child. ...In terms of emotions, animals are much more akin to us than is generally assumed."
Nobel Prize Laureate Dr Konrad Lorenz, Father of the Greylag Geese.
"Most people seldom encounter anything but lifeless, man-made things in their daily lives and have lost the capacity to understand living things or to interact with them. That loss helps explain why mankind as a whole exhibits such vandalism toward the living world of nature that surrounds us and makes our way of life possible. It is an important and worthy undertaking to try to restore the lost contact between human beings and the other living organisms of our planet."
Nobel Prize Laureate Dr Konrad Lorenz, Father of the Greylag Geese.
THANK YOU FOR VISITING.