LOVE CANADA GEESE BOOKSTORE
Thank you for visiting our bookstore!
The books and DVDs displayed on these pages are sold on Amazon.com (USA and Worldwide shipping) or Amazon.ca (Canada). Purchase the books from Amazon and a percentage of the purchase price is donated to LOVE CANADA GEESE.
********
NEW BOOK!!
Love Canada Geese is pleased to introduce
GADDY AND GREYMOUSE
By Katherine Bolamperti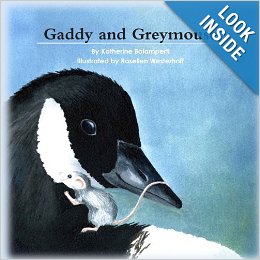 An enchanting tale about an unlikely friendship. Follow the adventures of Gaddy the Canada Goose and Greymouse the Field Mouse, as they meet and become best friends along the shore of Lake Pellow.
"I was touched by this charming story of true friendship between a Canada goose and a field mouse. The joy of their friendship and their pain at parting are feelings everyone has experienced but is so lovingly told in this book. The illustrations are absolutely gorgeous. You will enjoy this book and you will treasure it. A book for geese lovers of all ages." Love Canada Geese
CLICK TO BUY THIS BOOK IN THE US:
Gaddy and Greymouse
Gaddy and Greymouse
***************
CHILDREN'S BOOKS AND TOYS PART ONE
CHILDREN'S BOOKS AND TOYS PART TWO
************

**************
NON-FICTION BOOKS ABOUT OTHER GEESE

**************

****************
BOOKS ABOUT BIRDS AND OTHER ANIMALS

*******************
MOVIES ABOUT CANADA GEESE AND OTHER BIRDS

*********************
**********************

Want to buy other items from Amazon.com or Amazon.ca and have a percentage donated to LOVE CANADA GEESE? Please fill in your search words in the KEYWORDS boxes to begin:
Thank you for supporting Love Canada Geese!