LOVE CANADA GEESE 2010 WALL CALENDAR
featuring the geese of Winnipeg, Manitoba
Photographer: Choo Choo Love
COVER
JANUARY
: Canada geese return to Winnipeg in pairs in late March. It's the time of year I love the most as we welcome our friends from the south and we share their excitement at the approaching spring and the nesting season.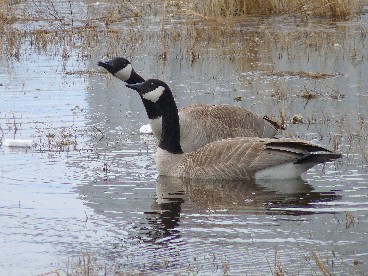 FEBRUARY:
A pair of geese enjoy a paddle in the chilly spring waters during a nest break.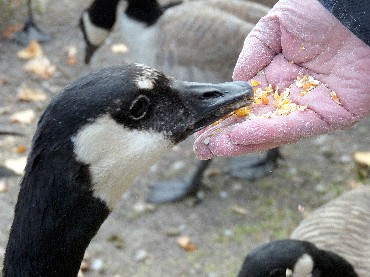 MARCH:
Jesse, our old friend,
feeds from Earl's hand.
APRIL:
Chester stands proudly beside Mrs. Chester
as she starts to build her nest.
MAY:
Happy Mother's Day!
JUNE:

A sweet picture of parents enjoying a swim and bath with their babies.






JULY:

Goslings grow up much too quickly during our sweet, short summer.


AUGUST:
Soon, goslings take to the skies with their parents. In this photo, some geese are flying upside down, a phenomenon known as whiffling. Why do they do that? Some think flying upside down allows geese to reduce their speed as they prepare to land. Others think it's only the young ones that do that in an expression of youth, innocence and joy. All I know is that I always feel light and happy when I see them whiffling in the air. It makes me wish I could fly along with them.
SEPTEMBER:
The brilliant colors of fall is captured in this charming photograph and the geese complete nature's spectacle.
OCTOBER:
Winging in!
NOVEMBER:
A blizzard of geese on a snowy November day.
DECEMBER:
Time to head south!
CLICK HERE TO ORDER LOVE CANADA GEESE 2010 CALENDAR
All proceeds benefit Love Canada Geese
Cafepress ships worldwide.
CLICK HERE FOR SHIPPING RATES & DELIVERY TIMES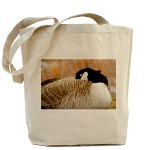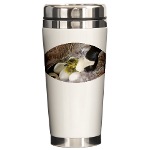 VISIT OUR CAFEPRESS STORE
TO SHOP FOR FALL AND WINTER CANADA GEESE MERCHANDISE. WE WILL HAVE DIFFERENT DESIGNS THROUGH THE SEASONS.
Thank you very much for your support!